With more than 140 year of rich international cricket history for the all-white team, England has certainly made their mark in the cricket world. The England cricket team has played more than 1890 matches across all three formats of the game. Only Australia have made more appearances than the English team with over 1900 games under their belt.
More so, the ability to shift the momentum of the game as well as the capacity to perform against the best among the rest are given higher value in any sport rating and the best English cricketers ranking is not immune to this. Defining performances in the series as well as game-changing contributions in ICC tournaments are equally considered to hold greater significance.
However, with the next cricket world cup coming up so fast in 2023, the England team will hoping that the like of Joe Root could be at their game come 2023 for their chance to upscale the India who is touted by odds calculated as the favorite at 3.40 odd and the England is rightly behind at 4.00 odd.
Moreover, with exquisite attribute of the England captain as he guided his team to 2019 world cup triumph on their turf and as much eye are onto him do the magic again come 2023, the England skipper has certainly lived to be among the best in the rich history of the England's cricket but here are the top five best cricket player that ever played for the England's cricket national team.
Sydney Barnes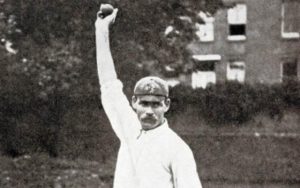 The record books describe him as a canny cricketer who whipped up a deadly concoction of swinging deliveries and spinning balls. While the Englishman set the trend for future cricketers and majorly the bowlers absolute use of the new ball and landing the hard cherry on its seam.
However, opposing the perception of the moder day cricket devotees, Barnes' wickets did not come against amateur batting lineups, while South Africa and Australia were the only opponents on international level.
More so, while Australia had already established a culture of producing technically strong batsmen, South Africa contained the likes of Aubrey Faulkner and Dave Nourse among others.
However, many argue the legitimacy of the Smethwick Cricket Club bowler as one of the legends in the game but his impact for the England cannot be overly emphasized and if one goes by the stat alone, Barnes has a legitimate claim to be the most lethal bowler of all-time. Among all bowlers in Test history with at least 150 wickets, his average of 16.43.
Sir Len Hutton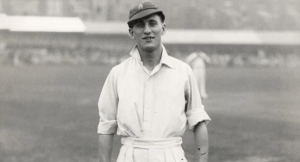 For someone that needed multiple bone graft to find a solution to a fracture sustained in a grueling training session, just four years after he made his international debut at the iconic Lord's Cricket Ground in London.
Moreover, the England first professional test captain had to dug deep in his mental reservoir to completely remolded his game to suit his physical disadvantage and despite his altered technique, the former Yorkshire County Cricket Club opening batsman picked himself up from where he left off and continued to score runs aplenty against different types of bowlers in the game and while he was able to occupy the crease for long period in his career, the veteran batsman also enthrall the spectators with his captivating stroke-play and exquisite run accumulator but the regal batman had 6971 runs from 79 matches at an average of 56.67 with 19 centuries and 33 fifties within his 18 years that his career span
Sir Ian Botham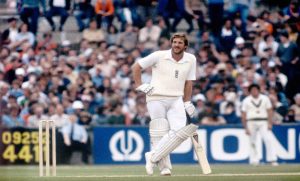 Alongside some fellow superstars like Imran Khan, Kapil Dev and Sir Richard Hadlee, Sir Ian Botham was one of the treasured cricketers in the 1980s.
While his batting was explosive and often game-changing, the right-armer's aura and sharp intellect helped the ever-charismatic opening batman pick up heaps of wickets in his prime. However, without a shred of doubt, Sir Ian Botham remains the most charismatic cricketer to play for England.
More so, at the helm of his career, Botham was the center of attention of all eyes. While it was occasionally manifestation for a cricketer to triggered such outpourings of euphoria in England. But, the Jubilee Test in Bombay and the 1981 Ashes have become a part of cricket folklore for the single-handed dominance of the spectacle all-rounder.
While his 5000-plus Test runs were scored at an amazing strike-rate of 60.71, his 383 wickets were also the most by any bowler from his country until James Anderson usurped the record. Even though he declined rapidly in the latter part of his career, Botham still managed to pick up 16 wickets in the 1992 World Cup and played a key role in England reaching the final of the tourney.
The astonishing magician had 383 wickets from 102 matches at an average of 28.40 and strike-rate of 56.9 with 27 five-wicket hauls and four ten-wicket hauls; 5200 runs at an average of 33.54 and strike-rate of 60.71 with 14 centuries and 22 fifties in the test series and 145 wickets from 116 matches at an average of 28.54 and rate of 3.96; 2113 runs at an average of 23.21 and strike-rate of 79.10 with nine fifties at ODI's. Truly the former star man was a blessing to the game.
Fred Trueman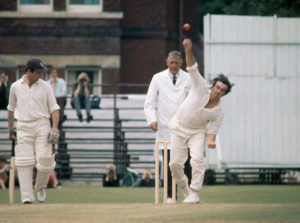 Right from his debut moment, all spectators in the stadium were aware that a freak of nature had arrived. From the moment he set foot in Test cricket, Fred Trueman terrorized numerous batsmen with his hostile pace and unplayable movement.
Steaming in from a lack of energetic run-up, Trueman's smooth action and unyielding will enabled him to consume the fast-bowling scene in the 50's. In his show of magnificent, Fred was the dream pacer.
Despite gaining the ability to generate extravagant swing, the Englishman never sacrificed on his biggest asset. Even as age began to take its toll in his later years, Trueman continued to bowl at fearsome pace and motored to the then-unprecedented landmark of 300 Test wickets.
With 307 wickets from 67 matches at an average of 21.57 and strike-rate of 49.4 with 17 five-wicket hauls and three ten-wicket hauls in his participating test series, Fred Trueman was a true legend in the game and not just for the England team only.
Sir Jack Hobbs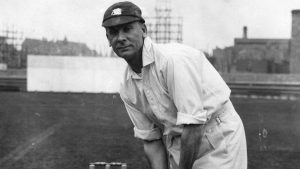 If it wasn't for the World War-1 that robbed the true legend of the game off his peak years, Jack Hobbs could have added more stint of a stat to the resounding number he pulls throughout his career in which amount to staggering 5410 runs and while he was unparalleled in his importance to England's sporting history which was vindicated in 1953 when he became the first professional cricketer to receive a knighthood.
Sir Jack is affectionately revered as 'The Master', Hobbs' dominance encompassed every level of the game, forming cricket's one of the most storied opening partnership with another test great, Hobbs embodied himself as a defensive wall at the top of the order and consequently left an untrickable footprint in the annals of the sport.
No batsman has come close to his phenomenal collection of 61760 runs and 199 centuries from a humongous 834 first-class matches. His legacy of the self-made genius in his unswerving dedication and unbridled love for cricket can forever be storied in such a career that span through 1980 till 1930 and a quality numbers in test series that includes 5410 runs from 61 matches at an average of 56.94 with 15 centuries and 28 fifties.