The Border–Gavaskar Trophy is a Test series played between India and Australia. It is currently played via the International Cricket Council's future tours program, with varying lengths of time between matches. If the series is drawn, then the country holding the trophy previously retains it. The series is named after Australia's Allan Border and India's Sunil Gavaskar, the first two test cricketers to have scored over 10,000 Test runs in their respective careers, former captains of their respective teams, and were both world record holders for the most career runs scored in Test match cricket.
on 19th Jan 2021 India defeated Australia in 4th and final test in a thriller match by 3 wickets with just 18 balls left. It felt like a T20 match at the end. Rishabh Pant's unbeaten 89*, Shubaman Gill's 91 (146) and Cheteshwar Pujara's 56 (211) made this historic win possible.
R Pant is also declared player of the match and Pat Cummins declared player of the series. Ajinkya Rahane is unbeaten Test Captain with 4 Wins and 1 Draw.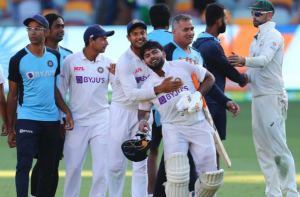 The amount of congratulations are coming from all over the world, especially cricketers….here are the highlights…
BCCI on Twitter @BCCI
CHAMPIONS #TeamIndia pic.twitter.com/hintWt3MEe

— BCCI (@BCCI) January 19, 2021
ICC on Twitter @ICC
19 Dec 2020: India all out for 36
19 Jan 2021: India breach The Gabba fortress#AUSvIND pic.twitter.com/P0sh5zsmtJ

— ICC (@ICC) January 19, 2021
Sir Vivian Richards on Twitter
You don't just play & love test cricket for nothing.

Brilliant game. Congratulations India on the win, & Australia for a great series! #Testcricket #AUSvIND

— Sir Vivian Richards (@ivivianrichards) January 19, 2021
Sundar Pichai Twitter
One of the greatest test series wins ever. Congrats India and well played Australia, what a series #INDvsAUS

— Sundar Pichai (@sundarpichai) January 19, 2021
Yuvraj Singh on Twitter
One of the greatest test series wins ever. Congrats India and well played Australia, what a series #INDvsAUS

— Sundar Pichai (@sundarpichai) January 19, 2021
Virat Kohli on Twitter
WHAT A WIN!!! Yessssss. To everyone who doubted us after Adelaide, stand up and take notice. Exemplary performance but the grit and determination was the standout for us the whole way. Well done to all the boys and the management. Enjoy this historic feat lads. Cheers ???? @BCCI pic.twitter.com/CgWElgOOO1

— Virat Kohli (@imVkohli) January 19, 2021
Saurav Ganguly on Twitter
Just a remarkable win…To go to Australia and win a test series in this way ..will be remembered in the history of indian cricket forever ..Bcci announces a 5 cr bonus for the team ..The value of this win is beyond any number ..well done to every member of the touring party..

— Sourav Ganguly (@SGanguly99) January 19, 2021
Ajinkya Rahane on Twitter
Proud to be a part of this unit ?? pic.twitter.com/bZZupXEAfE

— Ajinkya Rahane (@ajinkyarahane88) January 19, 2021
Ashwin on Twitter
Good evening from Gabba!! I am sorry I couldn't play here but thanks for hosting us and playing some hard cricket during these tough times. We will remember this series forever! @tdpaine36 @CricketAus

— Ashwin ?? (@ashwinravi99) January 19, 2021
Sachin Tendulkar on Twitter
For all of us in ?? & across the world, if you ever score 36 or lesser in life, remember: it isn't end of the world.
The spring stretches backward only to propel you forward. And once you succeed, don't forget to celebrate with those who stood by you when the world wrote you off. pic.twitter.com/qqaTTAg9uW

— Sachin Tendulkar (@sachin_rt) January 19, 2021
Jasprit Bumrah on Twitter
This is a win we're never forgetting, this is a win for the ages! So proud of this team, Jai Hind ?? CHAMPIONS? pic.twitter.com/9KzLG28QaJ

— Jasprit Bumrah (@Jaspritbumrah93) January 19, 2021
Narendra Modi on Twitter
We are all overjoyed at the success of the Indian Cricket Team in Australia. Their remarkable energy and passion was visible throughout. So was their stellar intent, remarkable grit and determination. Congratulations to the team! Best wishes for your future endeavours.

— Narendra Modi (@narendramodi) January 19, 2021
Wasim Jaffar on Twitter
The dream is fulfilled. So proud of team India! ? #AUSvINDtest #AUSvsIND https://t.co/YyojbN2Mad

— Wasim Jaffer (@WasimJaffer14) January 19, 2021
Congratulations TEAM INDIA! What a WIN !! Dugga Dugga