Indian cricket team is on a roll right from the start of this new year 2020. They won against the lesser teams, then gave a huge send off to the mighty Aussies in ODIs. And now the Blackcaps are under the hammer. India has won 2 T20s on a trot.
Much anticipated 5 match T20 series against the New Zealanders started off at Eden Park on 24th-Jan when team India decided to bowl first. New Zealand came up with a fair bating performance score in excess of 200 runs in the first innings. Little they knew that a target of 204 will prove to be a walk in the park for the men in blue. India won the match comprehensively by 6 wickets in the 19th over. Match Report and Scorecard.
Second T20I today was anticipated to be more competitive however, It was a total opposite of what was expected. It was a low scoring match which didn't post any hurdle to Team India. It started off with a shaky New Zealand start and ended with yet another strong Indian batting performance. 2nd T20I scorecard and Details. The common thing between the two matches was KL Rahul and Shreyas Iyer splendid batting display. Rishab Pant who is not a part of the playing XI is finding it more and more tougher to come back to the Indian T20 side due to KL Rahul's inroads with the bat and gloves.
Also Read: Rishab Pant vs MS Dhoni
Latest Stats and Figures of Rishab Pant
KL RAHUL (Lokesh Rahul) Stats and Figures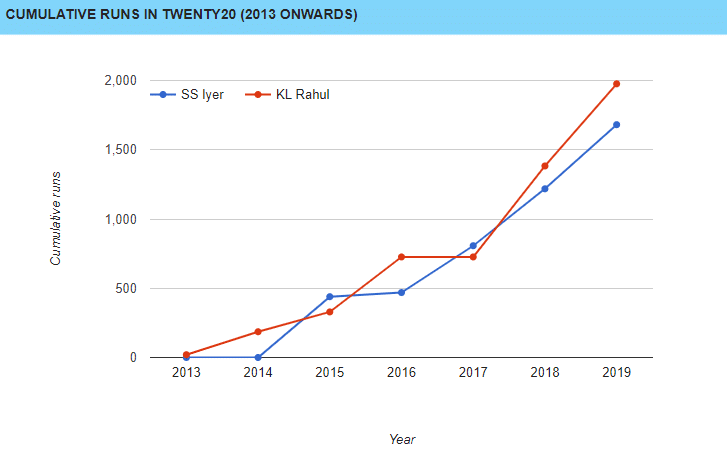 Is KL Rahul better than Rohit Sharma in T20I?
Well here is a graph showing the dip in Hitman's recent year's T20 performance whereas KL Rahul is just peaking at the right time.
Is KL Rahul better than Rishab Pant?
this one is particularly difficult to call as in terms of stats and figures there isn't really much to decide from. However, Captain Virat Kohli has certainly weighted his support towards the KL Rahul camp recently where he expressed his views about KL Rahul and how he see him a perfect fit for the wicket keeping role. This means that Virat Kohli is certainly more comfortable with KL Rahul with the gloves then Rishab Pant who hasn't had so much of a successful run in recent times.
KL RAHUL vs RISHAB PANT