Is Babar Azam Pakistan's Virat Kohli?
Young Babar Azam is the face of Pakistan's cricket at the moment, Pakistan has always been a bowler's factory where Babar Azam has been a much-awaited fresh breeze of change with consistency and class. Babar is a growing player however Virat Kohli is currently the reigning King of ODI cricket. Will there be a case for Babar Azam to match the class of Virat? What do the stats say? How good is he? Let us take a deeper dive into the facts.
VIRAT VS BABAR AZAM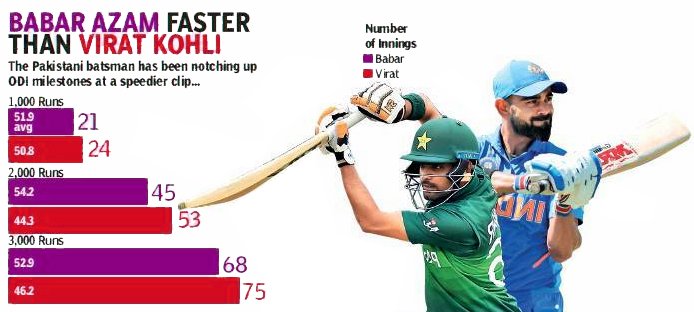 24 years of Age Babar Azam made his debut in 31st-May-2015. He is undoubtedly the best Pakistani Batsmen right now has an average of 53.55 in ODI cricket. But being a stroke player, he has surprised everyone with his consistency in the T20 format with an even better Average of 54.22. Getting better every day, Babar has said it several times that he is a fan of Virat Kohli, and Follows him and his style of play. But is the apprentice capable of surpassing the master?
BABAR AZAM BETTER THAN VIRAT KOHLI IN NUMBERS
Babar Azam in his initial career certainly surpasses Virat Kohli with staggering numbers. Here is a quick graph comparing the two master class players of India and Pakistan.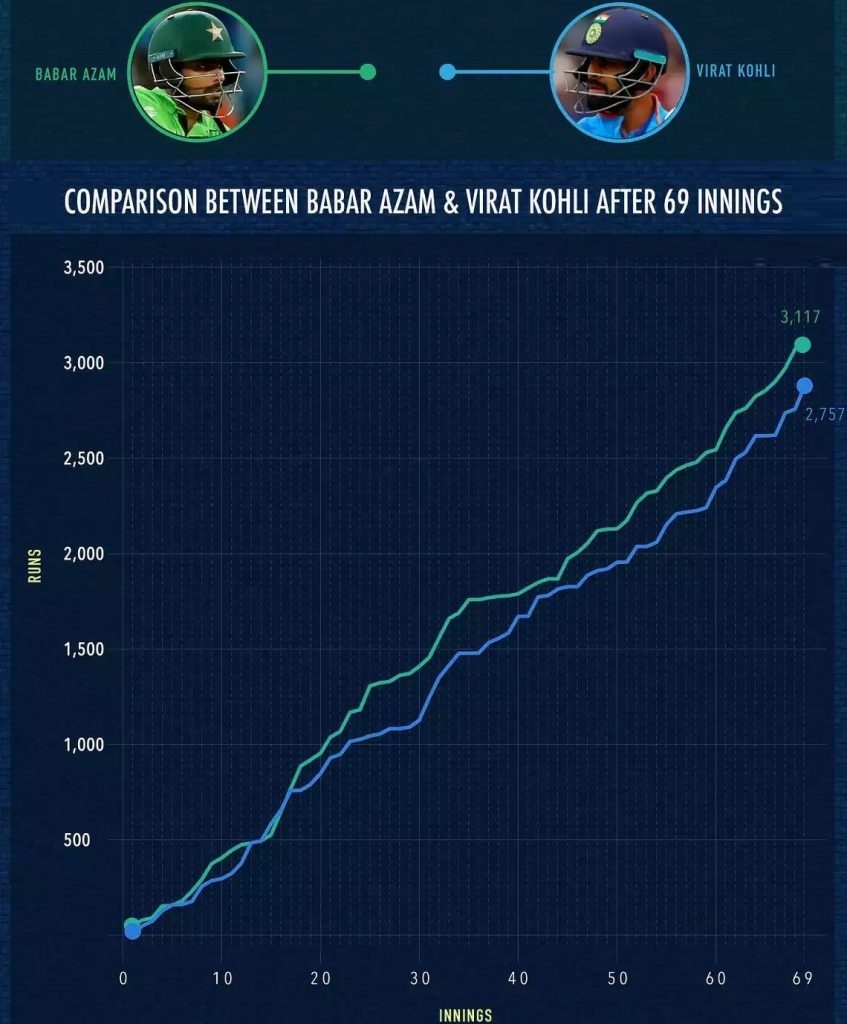 BABAR AZAM POPULARITY FOT SOMERSETS WEBSITE CRASHED FOR OVERWHELMING TRAFFIC
Babar Azam currently playing for Somerset where he has played some fine innings for the team, however, he became a worry for the SomerSet team as the team broadcast their matches as live stream over their official website, but apparently Babar Azam's fans were too many in numbers and the website broke due to over traffic.
Team Management had to upgrade the servers to cope up with the overwhelming traffic and got it fixed for the fans right after the issue. Babar Azam is one of the finest when it comes to bating and apparently his becoming a massive crowd puller too.
BABAR AZAM STATS AND FIGURES
VIRAT KOHLI STATS AND FIGURES
WHO IS BETTER VIRAT KOHLI OR BABAR AZAM?
Babar Azam showed a lot of promise and his performances are promising a great career ahead however Virat Kohli is already an established player who is dominating the current best of the best in his trade. Perhaps it's a little too early to call. However, there is no doubt that both are masters of batting and are right at the top with it comes to batting skill and application of it.
WATCH LIVE CRICKET
Useful Links:
Live Cricket Streaming of All Matches
Live Scores
Match Results
India Fixtures
Pakistan Fixtures
All Cricket Series and Fixtures
Australia Fixtures
England Fixtures
Top Cricket Stories
Latest Cricket News